There are a lot of Womens like to do their own hair at home, but how to cut to their satisfaction, it really good-looking hair Dao hair? It seems easy to say, but it's not so if you really want to start. Here, we will teach you how to cut your own hair and share some useful tips on how to cut your hair by Hair Scissor.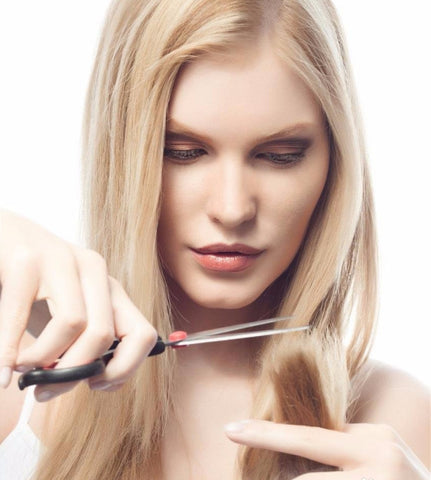 For Men
1. Cut a little less each time. Don't try to cut your hair well with one knife, so cut it a little shorter than you think every time you cut it. Leave more hair to keep balance. In addition, curly hair friends pay attention to, because the dry hair is slightly shorter than the wet hair, we must pay attention to when cutting hair.

2. You can make a ruler with your fingers. Because the scissors are easy to deviate, we can often see that the hair stylist will clamp the part of hair with his fingers parallel to ensure that it is even, as shown in the picture above. Therefore, it is very difficult to cut your hair by yourself. If you only make minor modifications, but there are too many places to use the knife, we suggest you go to the hairdresser.

3. Wet your hair before you lose it.

In fact, you don't have to go to the barber shop to cut your hair. It's very simple. This experience is for some girls who want to have their hair cut. The fastest time to solve the problem is 5 minutes. The effect is quite good. So I'd like to share it with you.

For Lady

1 Comb your hair to make it smooth, smooth and clear. Tip: this method does not require to wash hair first. For people with thick hair, blow it with electric hair dryer and cylinder comb.

2 Bow your head, use a comb to comb all the hair to the front of the forehead, and use a rubber band to tie the middle of the forehead to form a horse tail as tight as possible. It looks like a unicorn.

3 Measure the length to determine how long you want your hair. For example, you want the bangs above your eyebrows, or you want the length of the first layer of hair to be level with your chin. Then measure the length from the beginning of the ponytail to the position you decide, and then measure the same length on the ponytail.
4 If you like to use wig, you may refer to its method.